Alcoa Anglesea Peregrine Falcon Webcam
Monday 27 October, 2014
Welcome back! We are pleased to report that the 2014 Peregrine falcon breeding season at Alcoa Anglesea is well underway.
Ava has once again elected to return to the coal bunker ledge, her preferred nesting location since 2010. We have been keeping an eye on the bunker ledge however Ava had managed to position herself out of view.  That is until now ....
Finally today we find Ava feeding two bundles of white fluff tucked in against the vertical u-beam. Yey! Fingers crossed for these two little guys.
Alcoa Anglesea has been home to a pair of Peregrine Falcons since 1991.  In 2003, a new pair adopted the power station as a nest site.  After two failed nesting attempts on the station itself, environmental staff installed a nest box for the pair on the site's water tower in 2004.  From 2006, a live webcam broadcast images from the nest box across the world.
Unfortunately, due to continuing aggression from the pair towards employees, the nest box was relocated in 2010 from the water tower to stand-alone locations. Since then, Ava and Havoc have chose not to use the nest box, instead nesting on the power station where all attempts have failed.
The most serious threats facing Peregrines in Victoria are illegal persecution and the continuing loss and disturbance of suitable nest sites. Only 3% of Peregrine nests found in Victoria are on man made structures, so Alcoa Anglesea presents a unique opportunity to provide a site for this pair of Peregrine Falcons.
Alcoa has an ongoing interest and involvement with Peregrine Falcons in Victoria, with both the Anglesea and Point Henry sites working alongside the Victorian Peregrine Project (VPP) to assist
with research and conservation of the species. This work is part of the environmental management work underway at each Alcoa site to reduce our environmental footprint and promote conservation.
nieuwe update op hun site!
http://www.alcoa.com/australia/en/info_page/falcon_webcam.asp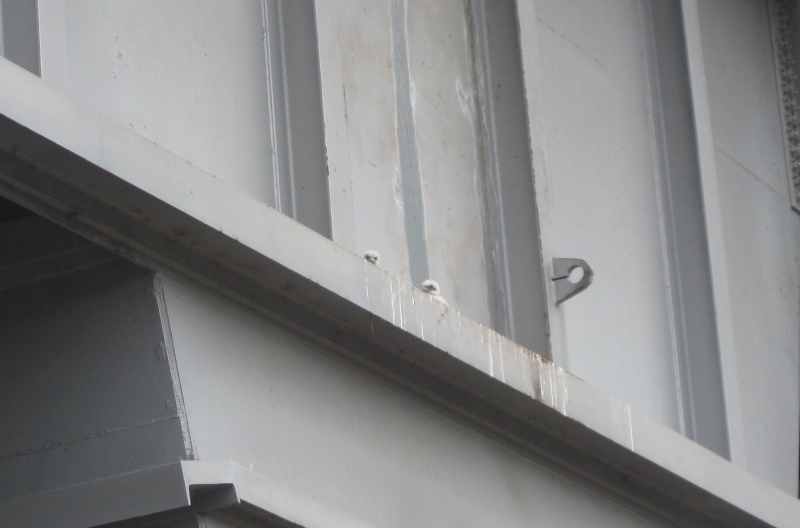 Alcoa Anglesea Peregrine Falcon Webcam
Monday 01 December, 2014
One of our chicks has taken flight whilst the second sits tentatively on the edge of the bunker.


 Fledging, leaving the nest, is a part of the life cycle of the juvenile Peregrine falcon and usually occurs around day 40 which is spot on for when our bundles of white fluff were sighted.  

While they are in the early stages of learning to fly, employees around the power station keep a special eye out for the juveniles that may come to ground or rest on structures around the station as they recover for the next burst of flight.

kittenface




Aantal berichten

: 730


Registration date

: 30-07-09


Woonplaats

: Central Pa, USA



Thanks for posting this Kittenface! He/She looks beautifull!

---
Permissies van dit forum:
Je
mag geen
reacties plaatsen in dit subforum